Food In Isla Mujeres
Pepitas
Pepitas are pumpkin seeds, which means they are squash seeds since pumpkins are a type of squash. Pepitas may be hulled or not, roasted or not, salted or not, and are often accompanied by chile and lime. They are ground and used to thicken pipi
á
n sauces and moles, and sprinkled atop dishes as a tasty garnish and made into sweets.
Pepitas come from one of the "three sisters" of ancient agriculture in the Americas: Maize (corn), beans, and squash, meaning they are one of the three plants first domesticated in the Western Hemisphere, as well as an essential part of traditional diets in this area. The seeds are a good source of protein with a fat content that can vary from 11% to 51%.
They are used in with eggs in papadzules, in dzotobichay
(a chaya tamale), and with poultry and other meats as atoles, and moles.
Pepitas are ground and mixed with oils, tomatoes, chiles, and spices to create a wide variety of dishes.
They are used in marzipan, popsicles, candies, and desserts. These recipes using pepitas translate well with an online translator.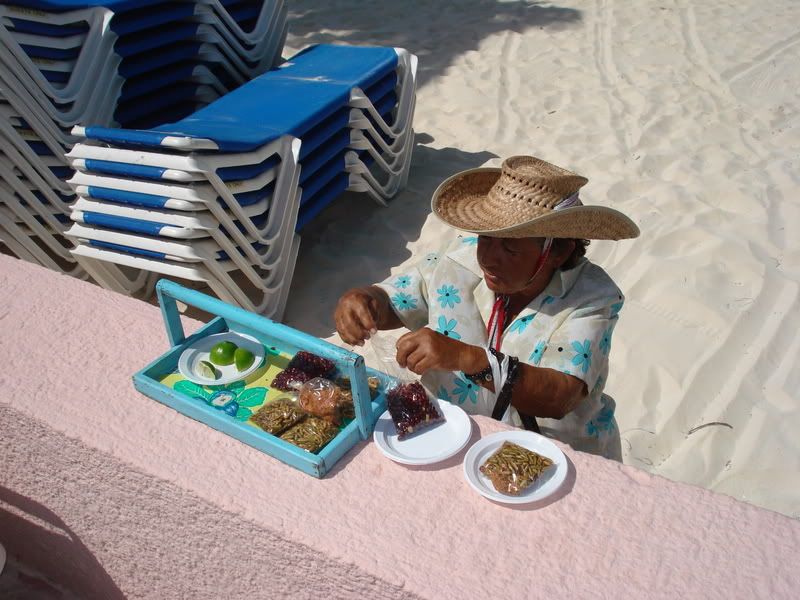 Maria is a popular pepitas vendor on Playa Norte and those are her tasty pepitas with chili and limon.
Sikil Pak

is one of my favorite pepita dishes
3 tomatoes, charred
1 cup pepitas, toasted
1/2 large white onion, charred
1 roasted habanero chile, seeded
1/2 cup fresh cilantro leaves
1. Char all sides of the tomatoes, onion, and habanero chile. Wear gloves or use utensils with the habanero, heat liberates its oils.You can char the vegies, using a very hot dry cast iron skillet or comal, or with oil in the oven. The pepitas can be toasted in the hot skillet or in the oven, if they are raw. 2. Put the pepitas in a food processor or blender and process until the seeds are well ground into a paste, adding water as needed.
3. Add the roasted tomatoes, onion, habanero (seeded), and fresh cilantro. Pulse until well blended.
Salt to taste and enjoy with chips!