Food In Isla Mujeres
Mamey
Mukuy ha'as (Maya),
Mamey sapote Pouteria sapota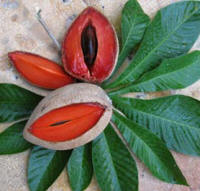 The Yucatan produces half of the mamey fruits sold in Mexico. The large native hardwood grows over 100 ft. tall with a broad lush canopy. The fruits are football shaped and 3-6 inches in length, with a rough brown skin and orange aromatic flesh that has the texture of a soft avocado. I love its slightly nutty flavor which is reminiscent of sweet potato pie, and similar to an apricot. Its taste is compared to almonds, pumpkins, sweet potatoes, apricots, raspberries, and mangos, and is also described as slightly musky. In Isla it is commonly made into delicious liquados (smoothies), ice cream (helado & gelato), paletas (popsicles or icees), and sherberts. It is often flavored with cinnamon.
Mamey has many medicinal uses (Wikipedia claims it is an aphrodisiac.) It produces a lather used for dandruff that makes hair shiny. It is used for diarrhea, indigestion, and stomach pain. The seeds are used to treat wounds, cough, asthma, and heart disease, while the leaves are said to help alcoholics avoid alcohol.
Locally, they are commercially harvested from January through June, while other varieties ripen in the fall. This video tells how they are grown and harvested, and explains how to choose, prepare, and store them.
You are likely to find Mamey liquados at loncherias and other places where residents dine.