Talking Turkey In Isla Mujeres
19th Century painting
The type of turkey that is native to the Yucatan Peninsula is Pavo Ocelado or Guajolote de Monte. Pavo & guajolote both mean turkey as does totole. De monte means wild, and ocelado translates as ocellated, which means having eye-like markings. It is named for the spots on its tail feathers. In English it is the Ocellated Turkey. (Meleagris ocellata). In Maya he is known as the grand Kutz. On the Mayan horoscope, Kutz is "Pavo Real", which is a peacock.
It only lives within a 50,000 square mile area consisting of the Yucatan peninsula and extending a little ways across the northern borders of Belize & Guatemala and the southern borders of Chiapas & Tabasco. They are a smaller subspecies of the North American Wild Turkey, with females weighing 3-4 kg. (6-8 lbs.) and males weighing 5-6 kg. (11-15 lbs.).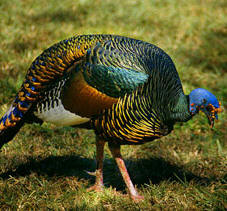 The males have beautiful iridescent plumage with hues of blue, yellow, violet, green and white, as you can see in this photo from Yucatan Adventures.

They are very shy and sleep in tree branches, spending most of their time on the ground feeding on shoots, seeds, and insects. They live in small family groups in areas of brush and are easily startled. Mayans capture them and fatten them in pens. Turkeys a traditional part of the Yucatan diet, being one of only two species of fowl to have been domesticated before the Spaniards arrived in Mexico (
the other was Muscovy duck)
. Turkeys quickly became popular in Europe, replacing stringy peacocks, and each ship returning to Spain was ordered to include 5 pairs in their cargo.
Relleno Negro Chilemole, a traditional turkey dish at Yucatan religious events, is offered at the festival of the Virgin of Fatima in Isla Mujeres.
Juarez & Matamoros, by Cafecito
The turkeys for sale in Isla Mujeres are white, domestic turkeys. The woman who sold them at the corner of Juarez & Matamoros usually sold them alive. A friend told me people prefer to buy them alive because, "You don't know how long they've been dead." Last year during the week before Thanksgiving, a turkey came walking up our sidewalk into Gringolandia from the neighborhood of the Chiapanecos, which was pretty funny.
When we ate roasted turkey for the first time in Isla Mujeres, it was with local friends celebrating the New Year. We were surprised to find they stuffed it with ground meat, which turns out to be customary on the island. Isla families eat turkey on Christmas and New Year's Eve.
Salina Chica
To roast a turkey Isla Mujeres style, first you marinade it overnight in a pot using juice from both sweet and sour oranges (naranja agria). To season it you will need to buy some recado blanco from one of the women selling vegies & masa on the street corners, where you can probably buy the pineapple and apples you will need. There are three recados, I have written about the red one made with achiote and used in pibils. The third one is recado negro.
Recado blanco is a blend of allspice, cloves, garlic, toasted Mexican oregano, toasted cumin, peppercorns, and coarse salt ground in a mortar with bitter orange juice/naranja agria.
Tacos Picadillo
The ground meat (half pork & half beef) that is stuffed inside the turkey is a complex dish in itself, called picadillo, for which you will need garlic, cloves, onion, a tomato, raisins, capers, pitted green olives, Mexican oregano, salt and pepper. You cook the meat in two glasses of water until you've cooked off all the liquid. Then you fry the other ingredients in hot olive oil, adding the meat. Diced potatoes may be included.
After you've put the picadillo into the bird, add some pieces of apple and pineapple. You will put pineapple in the pan, outside the bird, later. Some people add apples. The turkey will be basted with butter (margarine) and pineapple juice. It will be rotated and repositioned several times to allow the all parts of the skin to become golden and crispy.
These turkeys were not roasted In Isla Mujeres. I should have a photo of that after New Years. Buen Provecho, ya'll!